Pipercross Air Filter Toyota Land Cruiser LJ70 Hilux 2.8 D 2.4 TD 1.8 4772088044394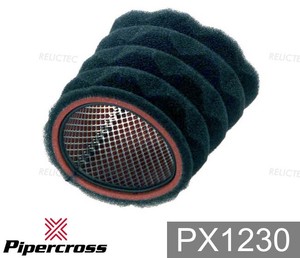 ---
Pipercross Air Filter Toyota Land Cruiser LJ70 Hilux 2.8 D 2.4 TD 1.8 Product Info

Part number PX1230 Shape Round Panel Length [mm] 155 Width [mm] 88 Height [mm] 197

Reference: 4292431 MD 620109 17801-54120 17801-54080 17801-31050 1780154120 1780154080 1780131050 VAF481 8942320590 8911333690 91133369 8-94232-059-0 25062045 94232059 C 16 136 LX 912 E-2417 Fits Vehicles
Make Series Model Capacity Year Power Kw/HP
Toyota
HILUX Closed Off-Road Vehicle (_N1_)
2.8 D
2.8 L / 2779 cc
1995.08-1998.08
65 Kw / 88 HP
Toyota
HILUX IV Pickup (_N5_, _N6_)
1.8
1.8 L / 1812 cc
1983.08-1989.03
58 Kw / 79 HP
Toyota
HILUX V Pickup (_N_, KZN1_, VZN1_)
2.8 D
2.8 L / 2779 cc
1991.09-1997.08
60 Kw / 82 HP
Toyota
HILUX V Pickup (_N_, KZN1_, VZN1_)
2.8 D
2.8 L / 2779 cc
1995.01-1998.08
65 Kw / 88 HP
Toyota
HILUX V Pickup (_N_, KZN1_, VZN1_)
2.8 D 4WD
2.8 L / 2779 cc
1988.10-1997.08
60 Kw / 82 HP
Toyota
HILUX VI Pickup (_N1_)
2.8 D 4WD
2.8 L / 2779 cc
1997.08-2005.07
65 Kw / 88 HP
Toyota
LAND CRUISER (_J7_)
2.4
2.4 L / 2367 cc
1984.11-1993.05
81 Kw / 110 HP
Toyota
LAND CRUISER (_J7_)
2.4 D
2.4 L / 2446 cc
1984.11-1985.10
53 Kw / 72 HP
Toyota
LAND CRUISER (_J7_)
2.4 TD
2.4 L / 2446 cc
1990.01-1993.05
66 Kw / 90 HP
Toyota
LAND CRUISER (_J7_)
2.4 TD
2.4 L / 2446 cc
1985.10-1990.05
63 Kw / 86 HP
Toyota
LAND CRUISER Hardtop (_J7_)
2.4 TD
2.4 L / 2446 cc
1990.07-1996.05
66 Kw / 90 HP
Pipercross has been making high performance air filters for the motor sport and domestic markets for over 25 years. Based in Northampton, England Pipercross is situated in the country along with some of the biggest names in motorsport engine design and manufacture in the world.

Direct fit into airbox - no modification. Flows 30% more air over standard. No increase in intake sound. Does not affect manufacturers warranty. Reduced fuel consumption and & emissions. Improvement in engine power and torque. Superior engine protection from dirt. Designed to flow stronger for longer. LIFETIME product warranty. Washable and reusable design. Layered multi-density foam technology. Designed and made in Britain. Important

Vehicle list is for general guidance only. Some parts may have more than one different application variants. Please always refer to actual part pictures (if present) and technical specifications. If you are unsure or seeking for correct part, send us your enquiry together with VIN (Chassis) number of your vehicle.
Professional Auto Parts Supply