Littlest Pet Shop Yellow Daffodil Fairy #2659 Glistening Garden Fairies Pigtails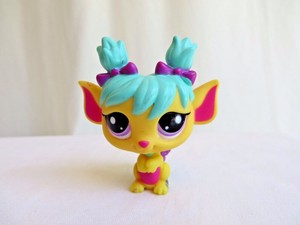 ---
One Littlest Pet Shop Yellow Daffodil Fairy by Hasbro.
This LPS Yellow Daffodil Fairy (#2659) is from the GLISTENING GARDEN FAIRIES COLLECTION.
It is lemon yellow with purple dot eyes. It has a green tail with a mint tail tuft, mint neck-fur, and mint pigtails held with purple bows. It has a dark pink tummy, nose, and inner ears. It has purple wings. It is some kind of four-legged mammal (bunny crossed with lion?) in a standing/ready to hop position. This Daffodil fairy is about 2.25" tall.
This adorable pet set is in GENTLY PLAYED WITH CONDITION and comes from a SMOKE-FREE and ANIMAL-FREE environment.
WE OFFER COMBINED SHIPPING FOR ALL LITTLEST PET SHOP TOYS! Once you are done shopping, either request an invoice, or, if you've already paid, wait for reimbursement of postage overcharges.
Inventory# B-0120