Candle Wax Melting and Pouring Pot-MINI 1-1/2 lb size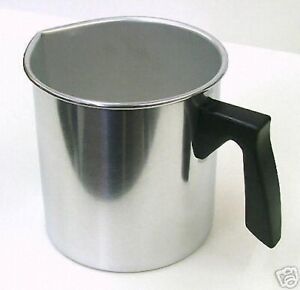 ---
Candle Wax Melting and Pouring Pot-MINI 1-1/2 lb size
You are purchasing a mini Seamless Aluminum Melting Pot/Pouring Pitcher used in candle making or soap making. Ideal for melting approximately 1-1/2 pounds of wax or Melt-N-Pour Glycerin soap.
Has easy-to-pour spout and heat resistant plastic handle. Will not rust or corrode.  Easier to use than "Coffee Cans".  Melting Pot/Pouring pitcher is 5 inches high and 4-1/2 inches in diameter.
No charge for shipping to any US location
 We co combine items to save on shipping charges.  We accept all forms of payment including payment through PayPal, MasterCard, Discover, VISA and American Express. Thanks for browsing.